PURPOSE. PEOPLE. PROSPERITY
Living the life you were born to live. 
PEOPLE. PURPOSE. PROSPERITY
Living the life you were born to live
The Find Your WHY Foundation has been created to help women in their 30's, 40's & 50's looking to live a life of fulfillment and happiness, in the next chapter of their professional & personal lives..
We have three programs for you to choose from, that have been designed to meet your individual needs, depending on where you are in your life, right now and where you want it to go…For women who want to explore more about potential & barriers, so that these can be removed, allowing them to step into their greatness.
Here is an overview of what's included in each program…
• Onboarding session, with an overview of The Find Your Why Formula & your GENETIC BLUEPRINT assessment, revealing which type of person you are from the 5 types, knowing this already gives you the power to understand your PURPOSE.
• Monthly Saturday Scholarship – diving deeper into the strategies you can use to increase your PROSPERITY in all areas of your life.
• Monthly Zoom Q&A session, so you can gain more clarity and surround yourself with supportive PEOPLE.
• Access to The Find Your WHY Formula online lessons with exercises to implement and Integrate into you daily lives, to manifest the live you really want.
• Genetic Blueprint reports / readings are available (subject to the level)
• Access to the private Facebook group, where you can share your awesomeness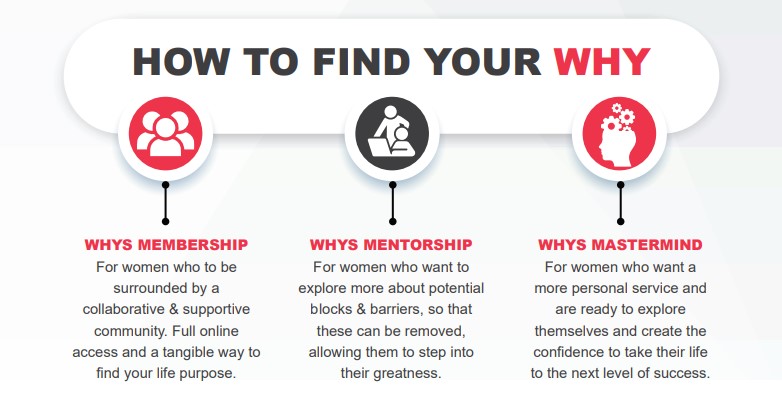 WE WILL WORK TOGETHER AS A TEAM
SO IF YOU'RE READY… BE SURE TO ENROL TODAY
Being part of the whys women community (with women who have found their why), will give you all the support and tools you need to a happier and more fulfilling life, and allow you to know with clarity what your higher purpose is and how to live it fully.
Once you have the training and experience from working closely with us, you will NEVER have to worry about when to say "yes" and when to say "no" again. You will have the ability (and the resources) to create absolutely anything you want, in any area of your life.
Maybe for you, that's exotic holidays with your family, building your dream home or maybe you just want the security of knowing that, no matter what, your bills are paid every month, and there's still money left over!
BUT THIS PROGRAM IS ABOUT MORE THAN JUST MONEY
Because we don't work with people who are just in it for the money. Members of this group are dedicated to spreading their message far and wide and making huge impact on the world. If you want to surround yourself with women who are on a mission to live their lives with meaning and purpose and to leave a legacy, this is for you!
Imagine being able to have the confidence and the clarity to create the life you really want! That is what makes the substantial investment with us, worth every penny. Then we invite you to enrol today.
We guarantee this will be the best investment you'll ever make for you and your future self. Looking forward to working with you!

Join the Find Your WHY Community at: